Mass Notification for Emergency
and Internal Communications
Mass Notification Technology












BUILDING ALERT MESSAGE FOR
INDOOR & OUTDOOR
MASS NOTIFICATION SYSTEMS











Desktop Alert enables the Nation's emergency response community and corporations to communicate emergency and important communications worldwide. From threats and hazard warnings through corporate messages, Desktop Alert provides multiple communications tools that deliver content directly to computer screens, email, mobile devices, SMS, large display and kiosks. Desktop Alert is the only US internal communications company to receive coveted DISA security certification by the US DoD. Among our government clients, US Department of Defense, NATO worldwide (sole provider), US Army, US Air Force, US National Guard, and the US Academy at West Point. Among our corporate clients: Mercedes Benz, Atlantic Health, Honeywell, Promedica, Vanderbilt University, Scottrade, General Dynamics and SIAC.
Desktop Alert includes message tracking and reporting in real time and our API allows integration with third party programs. The Content Manager includes multiple administrators with full/limited rights.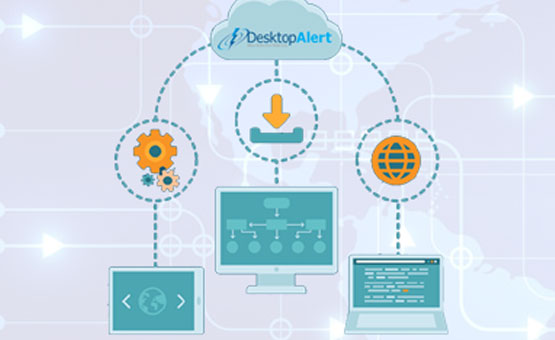 SAAS and locally hosted solutions
Desktop Alert provides three business models; Software as a Service (SaaS), a locally hosted solution and a hybrid solution that integrates local instances of the platform with the cloud. Locally hosted solution operates behind an organizations firewall. The Desktop Alert Locally hosted solution integrates with directory services such as Active Directory and enterprise applications and appliances via web services.
Alyssa's Law Alerting System - The Source
Our Alyssa's Law Solution is a do-it-yourself KIT requiring no special computer skills. This makes the system highly affordable. All Panic buttons USB Plug-n-Play. Press and hold the button for 3 seconds.
Our Give Back Program
10 Percent of all sales revenue will be donated to Alyssa's moms organization MakeOurSchoolsSafe.org.  For more information please visit Alyssas.Law
Tools and Panic Buttons
Desktop Alert tools include virtual and physical panic buttons, alerts, hospital alerts, tickers, surveys, screensaver and lockscreen channels. An API is available for third party integration. Desktop Alert communicates with all devices as well as VOIP phones, beacons, loudspeakers, kiosks and web relays.
Employee Communications
Communicating effectively with employees has never been more important in the WFH/hybrid environment. Global and domestic companies in every sector keep their employees informed and engaged by using Desktop Alert to communicate directly to the computer screen, phone, email, SMS, large display and kiosk of targeted users. Alerts, Surveys, Tickers, Screensavers and Lockscreen images allow multiple administrators to create full campaigns with detailed metrics. The adjacent video is a public link to one of our clients tutorial to its employees.
Emergency Communications
Desktop Alert enables the Nation's military, and civilian emergency response teams to communicate emergency messages in seconds to global networks and targeted users. Highly secure, Desktop Alert is the only US internal communications company with DISA certification from the DoD and, is the sole provider to NATO worldwide. Desktop Alert can broadcast FEMA, NOAA, CAP and IPAWS alerts. The US Army, US Air Force, The United States Military Academy at West Point and the National Guard are among our clients who utilize the DTA mass notification platform.
Total Healthcare Alerting Systems
Our Healthcare Alert system delivers emergency and administrative messages on every device, including: computers, VOIP phones, large displays, kiosks, mobile phones, SMS, email, beepers, loudspeakers and beacons. The system includes one-button operation of virtual and physical panic buttons and includes a non-intrusive mini alert designed for hospitals that does not interfere with on-screen content.
Multimedia alerts, bulletins, reminders, and more are easily and quickly prepared. Simple one button activation provides enterprise-wide mass notification.
Building Alerts
Building Alerts enable property management companies to protect buildings occupants with a unified plan for mass notification. Recent events and reports all point towards mass notification preparedness as a must for building occupants.
Command Center Software
Secure map-based Command Center monitors facilities, sends alerts and answers calls for help from on or off site locations through any internet browser.
Indoor Emergency Help Stations
Secure wall-mounted Emergency Help Station broadcasts instant emergency alerts and voice instructions to targeted locations. With the press of the Station's help button, anyone can speak immediately with security or police to request help or report an incident.
Outdoor Emergency Help Stations
The outdoor/ruggedized Emergency Help Station protects people in locations such as parking garages, industrial settings, transportation tunnels and stations, parks and courtyards, and athletic fields. With the simple press of a Station's Help button, people are connected to on-site or third-party security or police in seconds.
Mass Alert Notification Systems
Desktop Alert Secure Common Area Alerting Devices
Desktop Alert delivers emergency notification, communications and provides an intuitive management system that allows administrators respond much more quickly and effectively in an emergency situation.
Integrated Public Alert and Warning System
The Integrated Public Alert and Warning System (IPAWS) is an architecture that unifies the United States' Emergency Alert System, National Warning System, Wireless Emergency Alerts, and NOAA Weather Radio, under a single platform.
Alert Activation by Phone & Mobile
The Desktop Alert iPhone application verbally "announces the alert" without user intervention.Further, Desktop Alert pushes Video alerts, pre-recorded OR video alerts that automatically connect to live security cameras.
Latest News
Desktop Alert is a best-of-breed IP-Based alert technology which provides seamless integration with enterprise-class federated environments and shares communications and commands using standardized protocols such as XML and HTML
We're professional with experience of more than a decade
Schedule a Demo Now!