Mass Notification for Emergency
and Internal Communications
Mass Notification Technology












BUILDING ALERT MESSAGE FOR
INDOOR & OUTDOOR
MASS NOTIFICATION SYSTEMS











The Original Desktop Alert Notification System Since 2005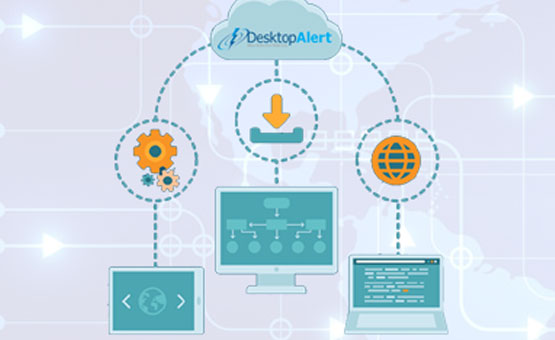 SAAS and locally hosted solutions
Desktop Alert provides three business models; Software as a Service (SaaS), locally hosted solutions and a Hybrid Solution. Locally hosted solutions operate behind an organizations firewall. The Desktop Alert locally hosted solution integrates with directory services such as Active Directory. Our Hybrid solution is for clients who desire a higher level of redundancy for times when the internet connection to the cloud becomes interrupted. In such instances the Hybrid kicks into gear and automatically the local on-premise solution becomes the primary server. Once the internet connection is restored the cloud seamlessly takes control as the primary server once again without administrative assistance.
Desktop Alert integrates seamlessly third-party endpoints via REST/XML API integration as well as contact closures. The following video shows how anyone without advanced computer skills can easily configure and activate a bi-directional communication connection between Desktop Alert and the buildings Fire Alarm System.
The video shows how Desktop Alert can activate a fire alarm system and further, illustrates how the fire alarm system can activate Desktop Alert.
Internal Communications Rapid, Secure Integration
Internal Communications and Business Continuity In today's workplace is a must! effective internal communications are vital to business success. Our platform integrates SECURELY AND rapidly, in only a few hours, instead of weeks and months.
Electro-Mechanical Integrations via WebRelay
Monitor and control devices remotely over an IP network using a standard web browser. One SPDT, form C relay for controlling devices and one input for monitoring dry contacts. Industrial-Grade. Stand Alone Devices. Easy-to-use web interface.
Employee Communications
Communicating effectively with employees has never been more important in the WFH/hybrid environment. Global and domestic companies in every sector keep their employees informed and engaged by using Desktop Alert to communicate directly to the computer screen, phone, email, SMS, large display and kiosk of targeted users. Alerts, Surveys, Tickers, Screensavers and Lockscreen images allow multiple administrators to create full campaigns with detailed metrics.
Desktop Alert Certified IPAWS System
Desktop Alert enables the Nation's military, and civilian emergency response teams to communicate emergency messages in seconds to global networks and targeted users. Highly secure, Desktop Alert is the only US internal communications company with DISA certification from the DoD and, is the sole provider to NATO worldwide. Desktop Alert can broadcast FEMA, NOAA, CAP and IPAWS alerts. The US Army, US Air Force, The United States Military Academy at West Point and the National Guard are among our clients who utilize the DTA mass notification platform.
Total Healthcare Alerting Systems
Our Healthcare Alert system delivers emergency and administrative messages on every device, including: computers, VOIP phones, large displays, kiosks, mobile phones, SMS, email, beepers, loudspeakers and beacons. The system includes one-button operation of virtual and physical panic buttons and includes a non-intrusive mini alert designed for hospitals that does not interfere with on-screen content.
Multimedia alerts, bulletins, reminders, and more are easily and quickly prepared. Simple one button activation provides enterprise-wide mass notification. Have a look at this very engaging DTA Healthcare Webinar.
Best of Breed Notification Platform
Command Center Software
Secure map-based Command Center monitors facilities, sends alerts and answers calls for help from on or off site locations through any internet browser.
Single Click Built-In Language Choice
Quickly Manage language selections on-the-fly. The system enables all clients access to all languages. This means one alert can be sent out in several languages with no special usage skills.
DISA Approved/Certified IP-Based Software
Desktop Alert was lauded by Fort Hood for its mass notification capabilities and speed of alerting during a active shooter event.
Mass Alert Notification Systems

Desktop Alert Secure Common Area Alerting Devices
Desktop Alert delivers emergency notification, communications and provides an intuitive management system that allows administrators respond much more quickly and effectively in an emergency situation.

Integrated Public Alert and Warning System
The Integrated Public Alert and Warning System (IPAWS) is an architecture that unifies the United States' Emergency Alert System, National Warning System, Wireless Emergency Alerts, and NOAA Weather Radio, under a single platform.

Alert Activation by Phone & Mobile
The Desktop Alert iPhone application verbally "announces the alert" without user intervention.Further, Desktop Alert pushes Video alerts, pre-recorded OR video alerts that automatically connect to live security cameras.
We're professional with experience of more than a decade
Schedule a Demo Now!